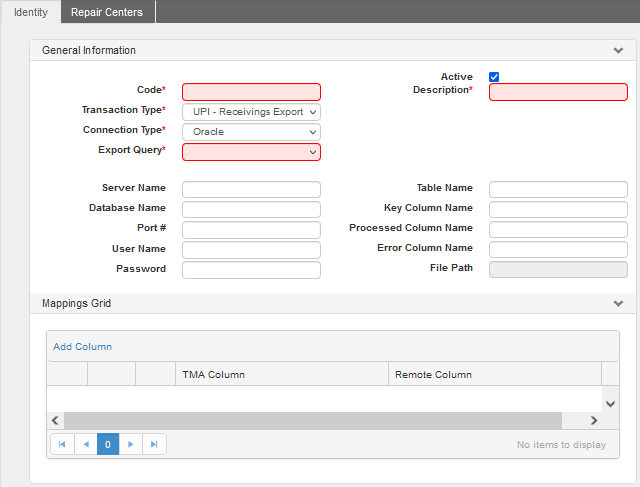 Path: Admin > Universal Interface > Universal Interface Setup
Select the UPI – Receivings Export Transaction Type to export Receivings records using the Universal Interface (Universal Interface) framework.
You have a choice of four export Connection Types: Comma Delimited Text File, Microsoft SQL Server, Oracle, or Tab Delimited Text File.
When you receive a Purchase Order, the Receiving record will be exported if a Universal Interface Setup is assigned to it.
The Export Query field is used to determine the records to be exported. Select an existing Browse Query to serve as the Export Query. The selected Export Query has no impact on the data columns that are used in the export process.
Be sure to select a folder so an error log can be generated.
The WebTMA Integration Client Service Configuration (Stand-alone windows application) Service includes fields to support exporting records.
Remember to add at least one Repair Center to the Repair Center Tab.
How to Link Universal Interface Fields for UPI - Receivings Export
In order to export Receivings lines, you must link WebTMA fields with fields within your Universal Interface table. By default, all required fields should already have line entries.
From your Universal Interface Setup window in Add/Edit mode:
Complete the required fields.
Click the Add Column link on the grid to open the Entry flyout.
Choose your WebTMA Column.
Select the Remote Column.
Click Save & Add (or Save).
Repeat until required fields and selected elective fields in your Universal Interface table have been matched up.
Add the applicable Repair Center(s) to the Repair Center Tab.
Click Save on the WebTMA toolbar.
Want to Know More?
Visit the WebTMA Help Page