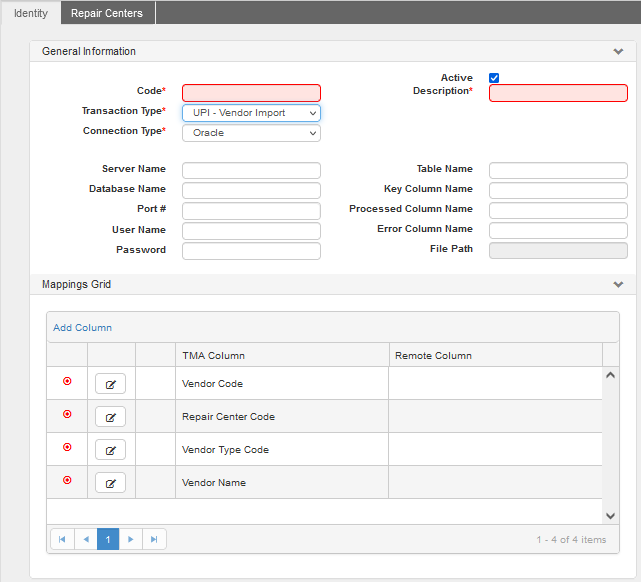 Path: Admin > Universal Interface > Universal Interface Setup
The UPI Vendor Import is used to import Vendor information to WebTMA. It requires at least one Repair Center added to the Repair Center Tab.
When you select the Transaction Type, WebTMA automatically loads the required fields in the mapping grid. These lines display a red icon in the left column until the row is mapped to the remote columns in the third-party database.
WebTMA filters the column field selection to prevent duplicate selection. For example, Vendor Type is not available for selection when you click the Add Column link because it is already selected.
Reminder: The lines that auto-populate the grid are required.
How to Link Universal Interface Fields for UPI - Vendor Import
In order to import Vendor lines, you must link WebTMA fields with fields within your Universal Interface table. By default, all required fields should already have line entries.
From your Universal Interface Setup window in Add/Edit mode:
Complete the required fields.
Click the Add Column link on the grid to open the Entry flyout.
Choose your WebTMA Column.
Select the Remote Column.
Click Save & Add (or Save).
Repeat until required fields and selected elective fields in your Universal Interface table have been matched up.
Add the applicable Repair Center(s) to the Repair Center Tab.
Click Save on the WebTMA toolbar.
Want to Know More?
Visit the WebTMA Help Page