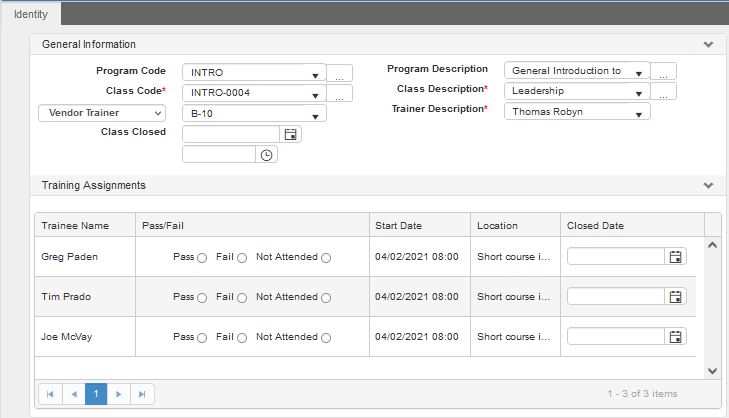 Path: Transactions > Training > Training Taken
The Training Taken window is used by Trainers to review a class, mark attendance, or add close dates in one place rather than opening several windows. A list of Trainees displays in the Training Assignments Section once you select a Class and Trainer.
The Trainer selection can be one of three: Technician Trainer, Vendor Trainer, or Outside Trainer. Vendor records are created using the Organization > Vendor window and Outside Trainers are entered from the Training > Class window when you set up or edit a Class record.
Trainers use the window to:
select the Class

indicate Pass, Fail, or Not Attended

mark the Closed Date
Details
When you enter Pass, Fail, or Not Attended without entering the Closed Date, WebTMA prompts you with the following alert, "Record cannot be saved with Pass/Fail/Not Attended unless the Close date on the attendee line is populated."
If only a few Trainee lines qualify as Closed, mark the fields in the Closed Date column of the Training Assignments Section for the lines that apply. If all lines qualify as closed, complete the Class Closed date and time fields in the General Information Section.
The window opens in Add mode. After you complete the required fields and choose Save on the WebTMA toolbar, the screen refreshes and is ready for the next entry.
When you enter a Closed Date, WebTMA checks to be sure no open training assignments are found. You are alerted with the following message, "Open assignments exist for this Class. All open assignments will be closed when a close date is provided." That is, if you choose to close the Class, all open training assignments are also closed.
When the record is saved, the hours are saved to the labor table in WebTMA as NP (non-productive) labor. To review training hours, use the Report Manager > Labor Cost report.
NOTE: WebTMA cannot save the record unless you have marked a Trainer and Trainee check box in Organization > Lookups > Time Types. As a reminder, the Trainer and Trainee boxes can be checked only once.
Want to Learn More?
Visit the WebTMA Help Page