Set values on the Defaults Tab to save time when users create Work Orders or record hours. The values established populate fields on the On-hand Adjustment, Purchase Order, Receivings, Work Order, Quick Post Time and Labor, Request Log, and other windows; however, users can always change this default on a window when needed. These are simply the values used most often by this user.
Not all windows and fields are available for default settings.
How to Set User Defaults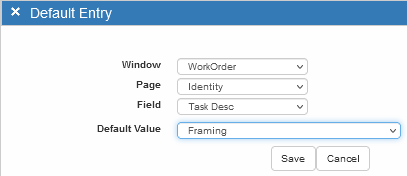 The selections for Defaults Tab fields are restricted to a few windows and a limited number of fields. However, they can save data entry time for regular users. To add default values to a User Management record:
Choose the

Defaults

Tab of the desired record.
Select

Edit

on the WebTMA toolbar.
Click the

Add Default

link at the top of the grid to open the

Default Entry

flyout.
Make selections for the

Window,

Page,

Field, and

Default Value

fields.
Click

Save

on the

Default Entry

flyout.
Click

Save

on the WebTMA toolbar.
You can remove lines from the grid in Edit mode by clicking the trash can icon on a line item.
Want to Learn More?
Visit the WebTMA Help Page