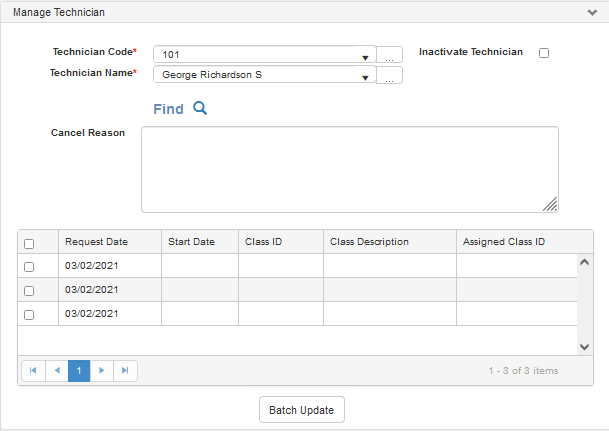 Path: Organization > Repair Center > Manage Technician Training
The Manage Technician Training window is used to close assigned or requested training for a specific Technician. The Technician's record can also be made inactive from this window.
Columns show both the requested and assigned Class ID and Description and the Start Date. The requested and assigned lines are canceled independently. When assignments are canceled, the assignment is marked as closed.
When you look at the Class Trainees record (Training > Class / Trainees Tab), you see both an Open Section and a Closed Section. The Closed Section shows canceled requests or closed assignments. Scroll to the last column of the Closed Section to see the Assigned Cancel Date.
Although the Technician window has a Training Tab with a Completed Classes Section (Organization > Repair Center > Technician / Training), it only shows Classes taken; it does not reflect canceled requests.
How to Close Training Requests
The Manage Technician Training window is used to select a Technician and cancel some or all Classes that were requested or assigned using the optional Training module.
Enter the Technician Code or name.

Choose the Find icon below the name field, and a list of all training requests displays in the grid.

(Optional) Enter Cancel Reason if needed. This reason is applied to all canceled requests.

Mark the check boxes of all requests you want to cancel.

Select the Batch Update button at the bottom of the window. A message indicates "Training update successful."
When you cancel assigned Classes, you can verify they have been canceled on the Class window (Transactions > Class / Trainees-Closed Section).
If the Class was requested but not assigned, use the Transactions > Training > Training Request Browse window. Canceled requests are indicated by a red icon

.
Want to Learn More?
Visit the WebTMA Help Page