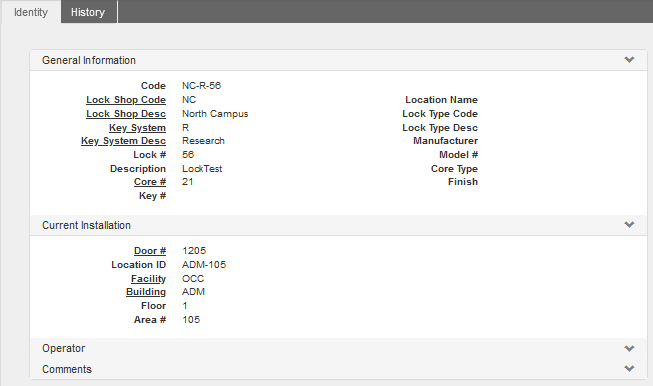 Path: Material > Key Management > Lock / Identity
The Lock window links to location data in your WebTMA database. You can assign a Lock to a Facility, Building, Floor, or Area record in addition to an Asset (e.g., Door). An Asset takes precedence if a Lock record is associated with the Asset.
If the Asset Type (Lookups > Asset Types) has the Is Door check box marked, that Asset is eligible to be linked to a Lock, regardless of the name of the Asset. See Asset Types Lookup Window and Locks for more information about Locks and assets.
Similar to other Key modules, a History Tab lists all actions taken regarding the Lock.
How to Create Lock Records
Click Add on the WebTMA toolbar.
Type the Lock #.
Enter a Description of the Lock.
Select a Key #.
Complete elective fields as needed.
Click Save on the WebTMA toolbar to save the record.
NOTE: If you use Lock Shops and Key Systems, different fields are enabled and required.
Want to Learn More?
Visit the WebTMA Help Page